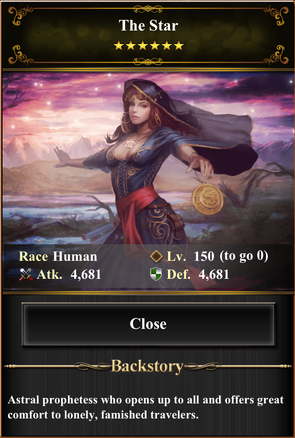 Backstory
Edit
Astral prophetess who opens up to all and offers great comfort to lonely, famished travelers
Obtained by
Edit
 
Level
Attack
Defense
1
301
343
2
384
425
4
467
507
5
508
548
6
548
588
7
589
628
8
629
668
9
669
707
10
708
746
11
748
785
12
787
824
13
826
863
14
864
901
15
903
939
16
941
977
17
979
1,014
18
1,017
1,052
19
1,054
1,089
20
1,091
1,126
21
1,128
1,163
22
1,165
1,199
23
1,202
1,235
24
1,238
1,271
25
1,275
1,307
26
1,311
1,343
27
1,346
1,378
28
1,382
1,414
29
1,417
1,449
30
1,453
1,484
31
1,488
1,518
32
1,522
1,553
33
1,557
1,587
34
1,591
1,621
35
1,626
1,655
36
1,660
1,689
37
1,694
1,722
38
1,727
1,756
39
1,761
1,789
40
1,794
1,822
41
1,827
1,855
42
1,860
1,887
43
1,893
1,920
44
1,926
1,952
...
46
1,991
2,016
...
48
2,055
2,080
...
50
2,118
2,143
...
52
2,181
2,205
...
54
2,243
2,267
...
56
2,305
2,328
...
58
2,366
2,388
...
60
2,427
2,448
...
62
2,487
2,508
...
105
3,654
3,663
...
122
4,061
4,067
...
145
4,574
4,575
146
4,596
4,596
147
4,617
4,618
148
4,638
4,639
149
4,659
4,660
150 (max)
4,681
4,681
∑
9,362
Return to Warrior Cards
Magical Edict
Edit
Released during the Traveling Apothecary event.
Affects
Transform into The Star
Recover Health 10% faster
Gain 10% more EXP
Ad blocker interference detected!
Wikia is a free-to-use site that makes money from advertising. We have a modified experience for viewers using ad blockers

Wikia is not accessible if you've made further modifications. Remove the custom ad blocker rule(s) and the page will load as expected.