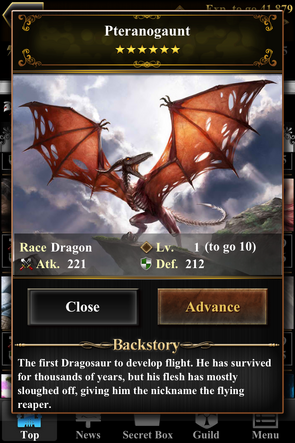 Backstory
Edit
The first Dragosaur to develop flight.  He has survived for thousands of years, but his flesh has mostly sloughed off, giving him the nickname they flying reaper.
Obtained by:
Edit
Reward for first Guild trade-in the Ammonite Collection from Island Before Time.
Warrior Stats
Edit
Warrior Strength by Level
Level
Attack
Defense
1
221
212
2
284
267
3
316
295
4
348
323
...
150 (max)
5,005
4,404
∑
9,409
Return to Warrior Cards
Ad blocker interference detected!
Wikia is a free-to-use site that makes money from advertising. We have a modified experience for viewers using ad blockers

Wikia is not accessible if you've made further modifications. Remove the custom ad blocker rule(s) and the page will load as expected.