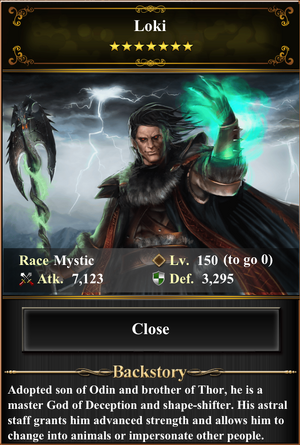 Backstory
Edit
Adopted son of Odin and brother of Thor, he is a master God of Deception and shap-shifter.  His astral staff grants him advanced strength and allows him to change into animals or impersonate other people.
Obtained by
Edit
Found in the Gold box at random.
Can be evolved when drawn multiple times from the Gold Box
Other Forms: Loki (Evolution I)
Level
Attack
Defense
1
402
197
2
491
219
3
536
220
...
6
670
222
7
715
223
8
760
224
...
94
4,613
676
...
150 (max)
7,123
3,295
∑
10,418
Return to Warrior Cards
Race changed from Mystic to Divine in July 2013.
Ad blocker interference detected!
Wikia is a free-to-use site that makes money from advertising. We have a modified experience for viewers using ad blockers

Wikia is not accessible if you've made further modifications. Remove the custom ad blocker rule(s) and the page will load as expected.