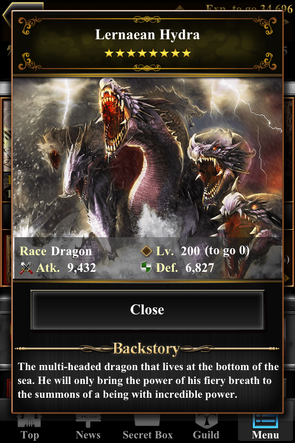 Backstory
Edit
The multi-headed dragon that lives at the bottom of the sea.  He will only bring the power of his fiery breath to the summons of a being with incredible power.
Obtained by
Edit
Enlorded version of the Chthonic Hydra
Release in the Arcane Havoc Guild War. This 6 star warrior was rewarded for 8 guild wins. 20 and 32 wins over 8 days rewarded the guild with an Augmentation Apple for enlording it. 
Warrior Stats
Edit
Warrior Strength by Level
Level
Attack
Defense
1
...

200 (max)

9,432
6,827
∑
16,259
Return to Warrior Cards
Ad blocker interference detected!
Wikia is a free-to-use site that makes money from advertising. We have a modified experience for viewers using ad blockers

Wikia is not accessible if you've made further modifications. Remove the custom ad blocker rule(s) and the page will load as expected.