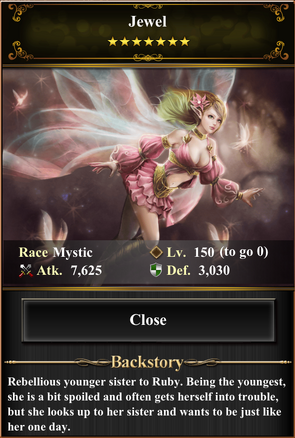 Backstory
Edit
Rebillious younger sister to Ruby.  Being the youngest she is a bit spoiled and often gets herself into trouble, but she looks up to her sister and wants to be just like her one day.
Obtained by
Edit
Event reward for a Spring 2013 event where you collected blossoms for her wedding celebration.
Level
Attack
Defense
1
...
150 (max)
7,625
3,030
∑
10,655
Return to Warrior Cards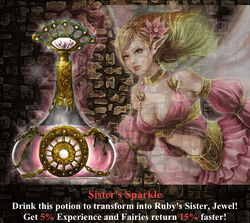 Released with the new fairy content "They Fly Once More."
Sister's Sparkle
Reward for 100 Individual Trade-In for collections of the Brise Fan.
Affects
Transforms you into Jewel
5% Experience increase
15% Speed increase to Fairies return
Ad blocker interference detected!
Wikia is a free-to-use site that makes money from advertising. We have a modified experience for viewers using ad blockers

Wikia is not accessible if you've made further modifications. Remove the custom ad blocker rule(s) and the page will load as expected.